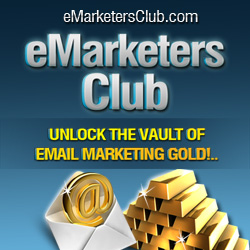 After you have created your squeeze page, you're probably very excited to start getting opt-ins to your list. Make sure you have selected a good autoresponder company that will keep track of your e-mail open rates and be very reliable for you and your list members.
Once you have the technical aspects squared away, it is time to start driving traffic to your squeeze page. If you do not have "eyeballs" on your opt in form, you won't get any signups! This might seem silly, but many marketers spend a lot of time setting up their squeeze page and expect the leads to just start trickling in on their own. This just does not happen! You need to put a lot of time and effort into driving traffic before you start to reap the rewards.
Fortunately, if you have used traffic generation techniques for your website, or for any other reason related to Internet marketing, you already have a head start. You can use the same methods for driving traffic to your squeeze page!
One option is to use pay per click marketing, such as Google Adwords. You'll basically bid on certain key words that people in your niche are likely to search for. You should create an enticing ad so they want to visit your webpage and see what you have to offer. If your squeeze page is compelling enough, you'll probably find that you get an opt-in rate of around 20% or more! Of course, this varies according to the niche, but you'll probably find a number around that.
You can also use search engine optimization. This is kind of difficult to deal with using a squeeze page since there is little content and not a lot of clutter or links. Still, you can place articles on the same domain and link those articles to your squeeze page to drive even more traffic. Having these articles will help your ranking in Google because Google loves content!
There are many free websites you can use to help you drive traffic as well. Sites like Squidoo and HubPages allow you to create a one-page website where you can link to your opt-in form. You'll get the benefit of traffic straight from these communities, as well as through their rankings in the search engines for the keywords you have focused on.
Article marketing can work extremely well also. Sign-up for article directories, such as Ezine Articles and Articles Base and submit your articles with your squeeze page URL in the author's resource box. Indicate that there is a free offer when they click the link, and you will likely get more click from your article.
Put these traffic generation techniques to work for you. It's best to create a schedule and stick to it every single day in order to start seeing some good traffic. Do a little bit each day and it won't seem like such a burden — and the profits will be great!