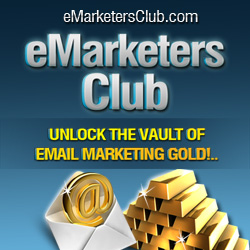 As you start to create more follow-up and broadcast messages to your list, you might be overwhelmed with deciding when to send sales e-mails and when to send relationship building e-mails. There are many different schools of thought on this topic, so you'll have to decide what works best for you and the members of your list.
The first thing you'll need to do is think about the type of people who are on your list. If they expected to receive excellent and informative content, you'll probably have to deliver more relationship building e-mails. However, if they expect to get sold to, there is no reason why you should spend any more time on content than you need to. For example, when people sign up to Wal-Mart's list, they expect to receive sales e-mails and not much information.
If you're having trouble deciding, you may want to rely on a formula many other marketers use. This is a good mixture of sales versus relationship building e-mails. For example, you might send out one relationship building e-mail, one relationship building e-mail with a mention of a product, and then one e-mail that directly sells the product. That way, you'll get people who are expecting and wanting the product.
If your list is more content focused, you can write three information-based articles, and then one sales message. You can play around with this and see what works best for you and the members of your list.
It's always a good idea to check out what your competition and marketers you admire are doing. Have you ever been so overwhelmed with sales messages that you wanted to unsubscribe (or did unsubscribe) from a marketer's list? If so, think about their mistakes and how you are going to avoid them. If you've always been interested in opening a certain marketer's e-mails, examine exactly what they are doing and try to model their approach.
No matter what, the best way to learn is by doing. If you find that you start to get a lot of unsubscribes because you're increasing the number of sales e-mails you send out, you may want to back off a little bit. If your list members are always asking you for product recommendations, or you consistently get a lot of sales when you send out sales e-mails, you may want to increase the frequency with which you send them out.
Through trial and error, and research into your niche and other marketers, you will find a formula that works best for you!