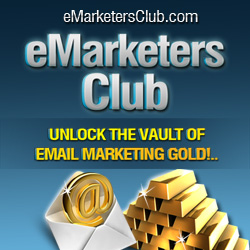 Have you ever heard the phrase, "The gold is in the list?" Internet marketers say this about selling information products because they understand that when you have a list of consumers who willingly allow you to market to them, your conversion rates will be higher.
First let's cover what a list is, exactly. A list is when you have an opt-in form somewhere on the Internet – usually on your website where you're selling information products.
The visitor sees an offer, usually for a freebie of some sort, and he or she enters their name and email address in order to get access to the offer. The opt in box is set up to send that information to your list-building software.
Autoresponder software, such as AWeber, allows you to set up multiple lists for each of your domains. This is important when you're learning how to profit from information products because you want different lists for all of your mini-sites where you're selling your products.
Once the person is added to your list, he or she is sent an automatic email from your autoresponder with the download link to the free offer you were promoting with your information product.
Most marketers use their autoresponder service to drip constant emails to their list on a daily, weekly, or bi-weekly basis. This sets the stage for backend sales of more information products.
If this is your strategy, then you need to make sure that every email that gets sent out from your autoresponder is of high quality and value to your audience. If you're continually spamming them with sales pitches, it ruins your credibility and chances will be slim that they'll even pay much attention when you announce the launch of your next information product.
Having a list also allows you to pick the brains of your target audience to see what it is they need from you before you start working to develop new information products. Some corporations spend millions of dollars on market analysis, but a list lets you do it for free.
Just remember when you're building a list for your information empire that you take care in treating your list with care and respect. This way, they'll stay a part of your inner circle longer and help your profits soar.