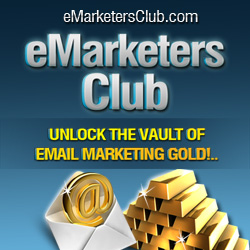 You can't afford to ignore your mailing list!
No matter how well you're doing in your affiliate business, you can lose everything at any time. Ask the countless affiliates who had their site bumped off the search engines, who had their PayPal accounts frozen, who were bumped by their partner websites for reasons they still don't understand. The horror stories would shock you, but the one thing that they all have in common is this:
If you don't have a mailing list, you don't have anything.
A list of subscribers – real people who know you and trust what you do – gives you a chance to build a relationship with your customers, give them great resources, and recommend products that will bring money into your bank account for years to come.
What Is A Squeeze Page?
A squeeze page is the first step towards consistent affiliate profits. It's a single page website that has a strong headline, an offer, a list of benefits, and a means to collect information, usually a name and email address.
Each of these elements are important:
The headline needs to be powerful and invoke curiosity, desire, or passion.
The benefits need to be "you" centric and help the visitor imagine the real, tangible benefits that they'll get with your information.
The offer needs to be strong enough to stand out from the norm.
You don't need a fancy design and you don't need to collect a lot of information – in fact, squeeze pages that only ask for an email address convert the highest.
What Should You Do With Your Mailing List?
Give them consistent bargains and value. This isn't going to be an easy process at first, but you don't want to burden your subscribers with a bunch of commercial stuff right away. Even linking them to a page on your website or a blog entry can be valuable if you treat it that way. The more you stand out inside that inbox, the more people will trust you, ask you for advice and help, and buy products that you recommend.
Remember that you can use PLR autoresponders and link to videos and other web content to "beef up" your correspondence with subscribers. Share up to date content and news with them – people love feeling like they're the first to know about something.
What Does It Cost?
You'll need only a few things, and most of them are covered by the bill for your affiliate website: A domain name, hosting, and the autoresponder. AWeber is the web's top autoresponder, and it only costs $1 for the first month. After that, it costs $20 monthly, which is a small price to pay for such a handsome return.
You can start the path to long term affiliate success today – build your squeeze page and start driving traffic to it as soon as humanly possible!